Ziki Kitchen, a "startup restaurant" in Austin, who has raised several millions of dollars through investor capital, has been using Cultured Oil in their restaurant. Cultured Oil is a novel cooking oil product made by Zero Acre Farm's GMO microbes consuming sugar and producing monounsaturated fatty acids (bug oil for short).
October 7th, Ziki Kitchen posted a poll on Instagram asking whether they should switch to beef tallow or continue using Cultured Oil.
The results weren't favorable to Zero Acre Farm's new frankenfood.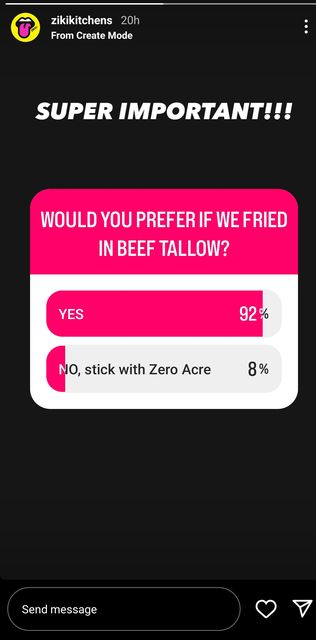 Results showed 92% of their group prefer the beef tallow. Only 8% want Ziki to continue using the bug oil. Turns out, "seed oil free" isn't a golden ticket, foodies want real food.
Find other seed oil free restaurants worldwide.
Find seed oil free restaurants in Austin, TX.